CODY VOLUNTEER FIRE DEPARTMENT
$500.00 One Time
FREDERICK G. RUMSEY SCHOLARSHIP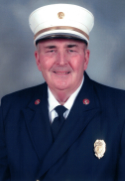 The Frederick G. Rumsey Annual Scholarship was established to honor a man who served with great distinction for 76 years. Frederick Rumsey passed away on Sunday April 10, 2022. Being the longest member in the history of the Cody Volunteer Fire Department and his community.
His timeless dedication to the spirit of service to others and his community has inspired many to a higher level of education and leadership.
Frederick G. Rumsey is and always will be held in the utmost respect by all who knew him and by those who have served beside him.
The Cody Volunteer Fire Department will proudly award the Annual Frederick G. Rumsey Scholarship to a carefully selected applicant who is a 2023 graduating senior from the Fulton G. Ray Bodley High School and a 2023 graduating senior from the Phoenix John C Birdlebough High School, who will be attending a 2 year or 4 year college or university, or vocational school.
Past Winners
Fulton
Mysteria E.M. Pike ~ 2011
David Johnson ~ 2012
Christine Pensabene & Kate Rothrock ~ 2013
Austin Haskins ~ 2014
Brian Hudson ~ 2015
Paige Noel ~ 2016
Jeremy Herlowski ~ 2017
Kaitlynn Ryan ~ 2018
Destiny Schneider ~ 2019
Hayden Sachel ~ 2020
Mitchell Donaldson ~ 2021
Ryan Nichols~ 2022
Teddy Clayton Jr.~2023
Phoenix
Nicole Fitzgerald ~ 2015
Amanda Briggs ~ 2016
Ryan Luke ~ 2017
Breanna Mitchell ~ 2018
Josh Vangorder ~ 2019
Tina Ali ~ 2020
Brielle DeRoberts ~ 2021
Kelsey Redhead ~ 2022